One of the trends that we see over and over in the online slots world is that progress is often considered to be expressed in terms of complication. What we mean by that is that many software developers tend to think that they have to make more complicated games if they want to make them better for players.
Play'n Go has shown with their Bell of Fortune classic slot that this isn't necessarily the case, and they pack a ton of gameplay into an ancient and very classic format. The RTP of Bell of Fortune is 94.12%, which is way below average.
Bell of Fortune Game Layout
The layout of this game has three reels on the left with the payout table and jackpot listing on the right. The controls for the game are along the bottom. The basic idea is that you choose a coin size ranging from Є0.25 to Є5 apiece, and then you can bet up to three coins per spin, which you should do to get the most value possible.
You're playing with a single pay line across three reels, and a combination of three fruit symbols and wild symbols give you chances to win.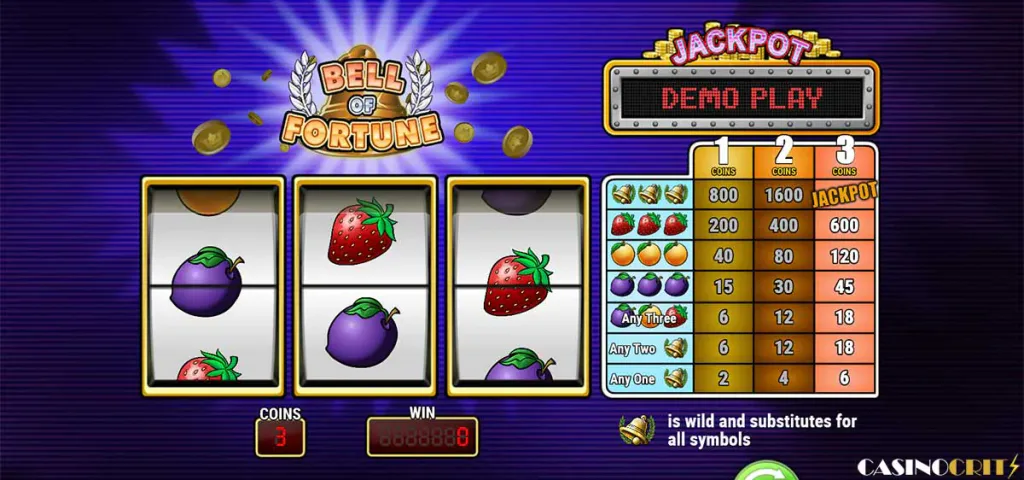 How to Play and symbol set
Unlike modern video slots that often have over 15 different symbols to keep up with, Bell of Fortune is all about quality over quantity. Along these lines, there are only four symbols that you need to know. The peach, the plum and the strawberry are the three regular symbols, and there's also a wild bell symbol that's the most important of the four.
If you play with three coins, which you should always do in this game, you can win a 6x payout for scoring just one bell. An 18x prize is available for getting two of the bell symbol as well. Any three fruit symbols on the pay line together will give you a solid win of 18x, no matter which three they are, and 45x is available for three plums. A set of three peaches earns 120x, and three of a kind in strawberries pick up a 600x win.
Progressive Jackpot
A scaled progressive jackpot is available in this game for players that use three coins, and this is the key to why you should always play with the maximum number of coins in this game. Pick up three of the wild bell symbols to score the jackpot on this game.
Bell of Fortune Overview
There's no doubt that Play'n Go can make some incredibly in-depth video slots. However, with Bell of Fortune, they've stripped things down to a very straight-forward experience that's perfect for classic slots fans who love the action more than the flash and fancy graphics. However, the RTP is on the lower end so a better option is iSoftBet's Hot Spin. Other slots in this categorie are Mega Joker and Route 777.