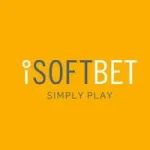 Established in 2010, iSoftBet is an online gaming software development studio specializing in regulated markets around the world. The company operates under the name ISB Technologies Limited, with headquarters situated in London. iSoftBet shot into fame after announcing the release of over 300 games in the same year during 2010.
Today, the company offers well over 400 different games, including mobile games, jackpot games, lottery, slot games, and popular casino games. The game selection from iSoftBet is available in both download and instant play versions. The company provides a fun and entertaining games to some of the world's most successful and largest e-gaming operators and are considered experts in offering games to existing online casinos.
The company is a trusted operator within the online gaming industry to create and develop games that not only entertain players but also captivates them, maximizing their revenue potential. iSoftBet is certified in Alderney, Belgium, Spain, and Italy and are skilled at meeting the strict protocols of each regulatory body.
iSoftBet Gaming Suite
The iSoftBet gaming suite includes an extensive range of original, modern video slots, all of which have been superbly designed with content from world-renowned film and TV studios.
Also, they also provide a unique selection of games that have been optimized for both tablet and smartphone devices. With the company's enthralling portfolio and vast experience, they are more than proud to be at the forefront of game innovation. iSoftBet's extensive experience is clearly visible in its game portfolio of well over 400 casino games, making them premium online software developers.
The company utilizes powerful and unique services that are incredibly flexible to successfully provide tailor-made gaming solutions that are carefully designed to meet every need. These include sophisticated ePayment integration, comprehensive management tools, unparalleled games, and even state of the art technologies.
iSoftBet creates, designs, and delivers online games that replicate the thrilling excitement of live gaming. Their games are endlessly engaging, easy to understand, and visually stunning. The company is known for providing unparalleled gaming fairness through its external and internal quality checks that are tremendously rigorous.
Players can enjoy their range of games in any online casino setting and offer a wide variety of games to suit any type of player. They also offer lotto facilities and bingo with social functions and are also connected to social media sites such as Facebook. Furthermore, iSoftBet also signed an agreement with Betrader, a sports betting supplier, allowing them to offer fixed odds virtual sports betting.
Games Selection
This online software development company, based in London, produces an extraordinary amount of games with more than 400 games covering social casinos, online casinos, and more. The company's games most often are modern 5-reel video slot releases and include many sought-after branded slots that are based on famous TV series such as Beverly Hills 90210 and 24.
There is also a great selection of branded video slots based on films, including Platoon and Rambo, to mention a few. From the 400 games offered by iSoftBet, 150 are high-quality casino games. They also impress with a wide range of lottery games under the Turbo lotto brand name and an array of exciting mini-games.
The slot game collection offered by iSoftBet features a wide variety of math models and themes, as well as exciting bonus features including extra wilds, multipliers, expanding wilds, and free spin features, appealing to a broad audience of online players.
iSoftBet also boasts with an impressive range of video poker games in an assortment of paytables and multi-hand variants. Their collection includes progressive draw poker and bonus poker games along with several table games and card games to provide a complete Vegas-styled gaming experienceMobile Market
Something that's really put iSoftBet in a position to have a ton of success is the simple fact that they have focused on the mobile market. They make sure that all of their new titles can be immediately integrated into the mobile products of their operators, and this keeps them in the pockets of players at all times.
Their games have been specially designed to fit well on the screens of smartphones and tablets, where screen real estate management is just as crucial as sharp graphics and solid gameplay.
Future Growth
The one thing that iSoftBet has behind them that signals future growth is momentum. Every year they get even more robust with a broader reach (including being added to more platforms), a larger audience and more high-quality titles. The games they release each year are always among the best, and they virtually never release a title that doesn't get a ton of positive attention.
Between the quality of their slots and the overwhelming focus, they have put on mobile play, which is the fastest-growing segment of the online casino industry, their future is obviously bright.
Summary
iSoftBet is a remarkable online software company offering a wide variety of gaming solutions to several online casinos in the iGaming world. From social and mobile gaming applications to bespoke gaming applications and gaming platforms, the company provides an all-inclusive range of services and products.
If iSoftBet has a weakness, it's that they don't come out with new games as often as some players would like. With that having been said, they still have new options several times a year, and with a focus on quality over quantity, it's easy to see how they're going to continue to be a force to be reckoned within the industry for the foreseeable future.