Free Bet Blackjack provides punters with certain wagers that they can enjoy without spending any money! This game from Evolution Gaming won't charge you for certain splits or doubles! The dealers are polite and engaging, while still fully attentive towards the player's needs! The streaming quality is top notch so you're guaranteed an incredible gambling experience.
The RTP for this game is 98.45%, and you can play certain doubles and splits without incurring any additional cost as well! Read more to find out how this game works and what payouts to expect.
How Free Bet blackjack Works
The goal of Free Bet Blackjack is to get a higher score than the dealer without going over 21. The player will be allowed to split as well as double down a few times on each hand for free! If your hand beats the dealer's, you will be paid for both wagers. Evolution has added a smart feature to compensate for free bets. In the event that the dealer goes bust on 22 then all bets left standing are pushed. This means your bets will be returned. It's a major difference compared to regular live blackjack where you would normally win if the dealer hits 22.
Choose coins in value between Є1 and Є1000 then place them on the board to place your bet. The dealer will deal two open cards to the players at the table, the dealer gets one card faced up and one faced down. If the dealers up card is an Ace players are offered insurance. When the dealer has blackjack all bets are lost, players that took insurance are paid 2:1. If the player has blackjack, he or she wins 3:2.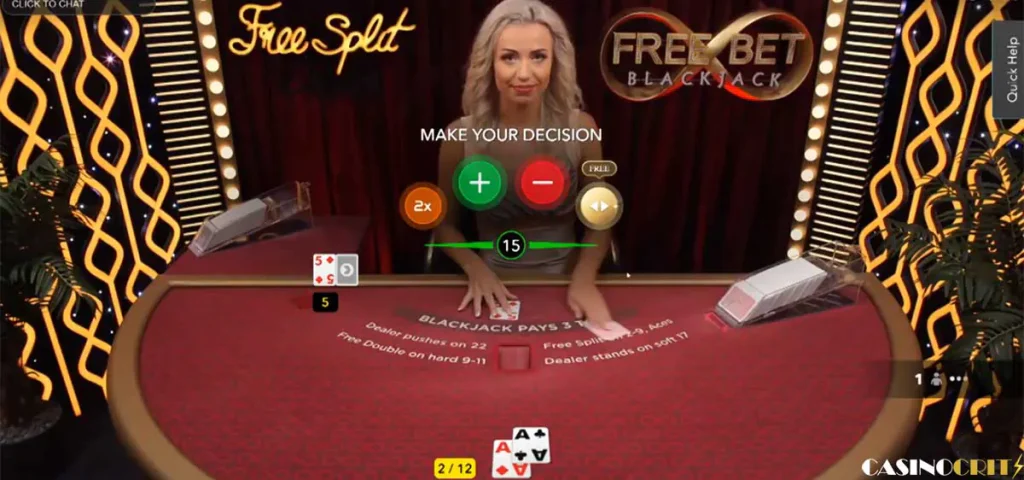 Betting options
If the dealer doesn't have blackjack then the game continues. with Free Bet Blackjack players get four betting options to choose from;
Hit: The player can take another card to get closer to 21
Stand: The decision is made to take no more cards
Split: If the hand contains a pair the cards can be split. Any non-ten pair that's split is considered a free bet
Double: You can double your bet and take an extra card. If you have a hard (no Ace in them) 9, 10 or 11 your bet is free.
Now it's the dealers turn to reveal his or her hand. This will determine one of four outcomes;
If the dealers cards have the same value as the players then this is considered a push. The players initial bet will be returned.
In the event the dealer goes bust then all players win. there is one exception, if the dealer goes bust with 22 then it's considered a push and all initial bets are returned.
If the player has a winning hand then he or she gets paid 1:1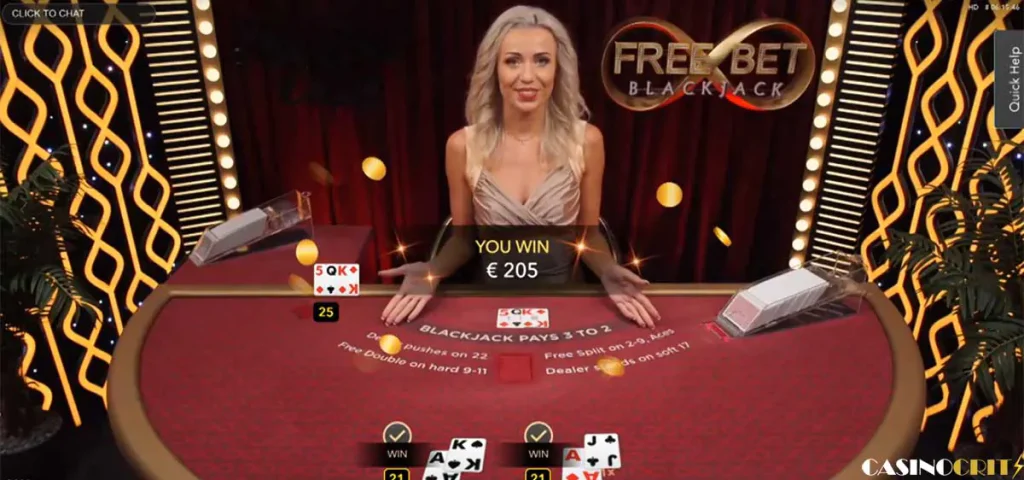 Additional side bets
There are four side bets with Free Bet Blackjack which will cost you extra credits but are definitely worth playing. The side bets are as follows;
Any Pair: This is a common side bet, the player is betting on the chance of their first two cards making a pair. A unsuited pair pays 8:1 and a suited pair pays 25:1.
Hot3: The players two cards and the dealers up card are added up and if outcome is 19, 20 or 21 the player wins. The payout is 1:1 for 19, 2:1 for 20 and 4:1 for unsuited 21. 20:1 for suited 21 and 100:1 for three 7's.
21+3: The players first two cards and the dealers up card are combined. The goal is to create a three-card poker hand. A Flush pays out 5:1, a straight 10:1, Trips 30:1, straight flush: 40:1 and suited Trips at 100:1.
Bustit: This is one of the best side bets to make. It's based on the number of cards the dealer is holding when he or she goes bust. If the dealer has 3 cards this pays 1:1, four cards pays 2:1, 5 cards pays 9:1, 6 cards pays 50:1, 7 cards pays 100:1 and 8 or more cards pas out 250:1.
RTP of Free Bet Blackjack
As with all live casino games, it's important to check the return to player rate. The RTP of Free Bet Blackjack is 98.45%. This is slightly lower than the 99.28% of Evolutions regular live blackjack tables. On the other hand you do get the chance to place free bets. One downside is the push that occurs when the dealer goes bust with 22. Compared to other live casino games the RTP is pretty good.
What do we think of Free Bet Blackjack?
We really enjoyed playing Evolution Gaming's Free Bet Blackjack. The game itself is pretty simple, but it was surprisingly fun to play. Free bets are always a good thing, but they're only worth the time if you know how to use them. The lower RTP is not that big of an issue as long as you follow the general blackjack strategy. Overall this game is definitely worth trying out! Other games we can recommend are Power Blackjack and Lightning Roulette.
Strenghts
Fantastic graphics & visuals
Above average rtp
Buy a bonus feature
Unique bonus with a 50,000x win potential
Weaknesses
Slightly lower RTP than regular live blackjack
Push if the dealer goes bust with 22